Welcome to the WRLLUAA Website!
"Why Do You Do What You Do?"
---
Welcome to our alumni website. This site is open to everyone.

Established on August 13, 2005, our association was created for umpires ('Members') who have umpired any Western Regional tournaments and Contributors ('At Large'). Our mission is to further the development of the Little League Baseball & Softball program by helping volunteer umpires in their efforts to better serve the youth in the program.

We can't accomplish our mission without the support of our members and the general public. To further that mission we are organized as a 501 (c)(3) non-profit organization providing an opportunity to those who can to make a tax deductible donation. Please contact any Board Member for more information on how to contribute.

We encourage all who visit to surf through the site; we will be adding information to the site continually. We invite you to bookmark the site and come back often!
---
​Blues on the Water Cruise!
---
WRLLUAA Umpire Bike Raffle!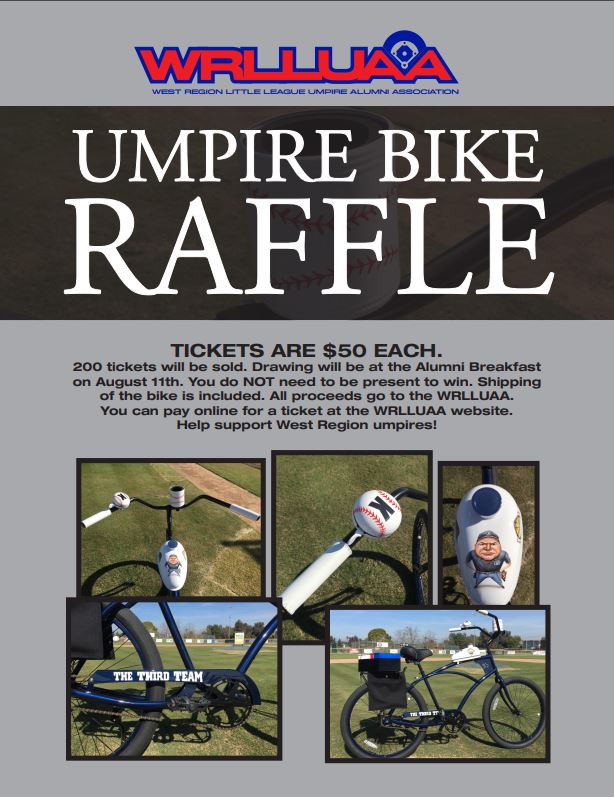 ---
The Future of Little League Umpire Development
At the 27th Little League International Congress, members of the Little League International Umpire Advisory Committee, along with Tom Rawlings from Little League International, discussed the improved process of developing Little League Umpires.
To view their presentation,
CLICK HERE
---
Gerry Davis Joins Little League Volunteer Umpire Advisory Committee
FROM NICK CARINGI, Senior Dir. of Operations & Education

We are proud to officially announce that Gerry Davis has agreed to join our Volunteer Umpire Advisory Committee.

During his visit in Williamsport, Tom (Rawlings) and I has an opportunity to sit down with Gerry and talk about a number of things, one being his involvement in this committee. Gerry was more than willing to help and provide his expertise and guidance.

We look forward to welcoming Gerry to the umpire family in this role.

Gerry is a 33 year veteran umpire of Major League Baseball. He has officiated three All Star games, two Wild Card games, 12 Division Series, ten Championship Series and five World Series. This past August he worked an inning during the Little League Baseball World Series in Williamsport, PA.
---
Has Your Contact Info Changed?
Have you not been receiving emails from the association? Didn't receive your breakfast invitation? It could be that we do not have your most updated information on file.
If your mailing address, email address and/or phone number has changed, please take a moment to submit the changes to the association Secretary.
Submitting your updated information takes less than five minutes! Just click on the link below:
UPDATE MEMBER CONTACT INFORMATION